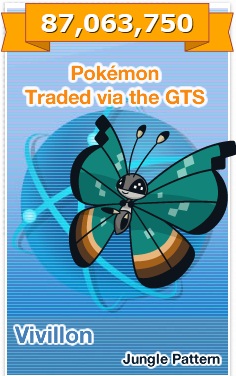 The next Vivillon pattern has been announced! Do you remember seeing all of the "Pokémon Traded via the GTS" images featuring Vivillon's many forms on the Pokemon Global Link website? If not, maybe the image to the right will jog your memory.
Well, it has been announced that once the number of Pokemon traded hits 100 million you'll be able to receive Fancy Pattern Vivillon via a special distribution event. Once the goal is reached we'll have to check back with Pokemon.com to see how to get our Fancy Vivillon. We'll make sure to bring you the info when we get it!
Now if only we could find out how to get the Poké Ball pattern Vivillon to everyone outside of France.
(Source: Pokemon.com)